Hi everybody! Welcome to the 6th edition of my newsletter "Free As A Bird".
The name of the newsletter represents us - we want to be free. Free to choose how we spend our lives.
---
As I told you in the last newsletter, I'm only checking my investments once a month.
The reason to why I do this is to update my monthly net worth on my blog.
Check my net worth update for june 2019 below.
A rough month in many ways!
After I tweeted about the consequences of checking my stock portfolio less often last week (see below), this really got me thinking.
Is it possible to start checking into my net worth less frequently?
On one hand I would love to only check my stock investments every 3 - 6 months or so.
On the other hand I wouldn't have the opportunity to update you guys monthly on my net worth.
Is there a solution for this?
Well, obviously it can't be.
Because how can I update my net worth monthly without checking into my account?
Do you like to read my monthly net worth update? Or do you prefer getting quarterly net worth updates?
I would love to hear your opinion on this.
Please DM me on Twitter or send me an e-mail.
---
Net worth June 2019
Net Worth Update #7 – June 2019 - $179,979
How was your month?
My portfolio was down 4,2 % in May.
In numbers this means -$7,897 less than last month.
This doesn't bother me at all!
Because, as J. L. Collins says, "The market always goes up!"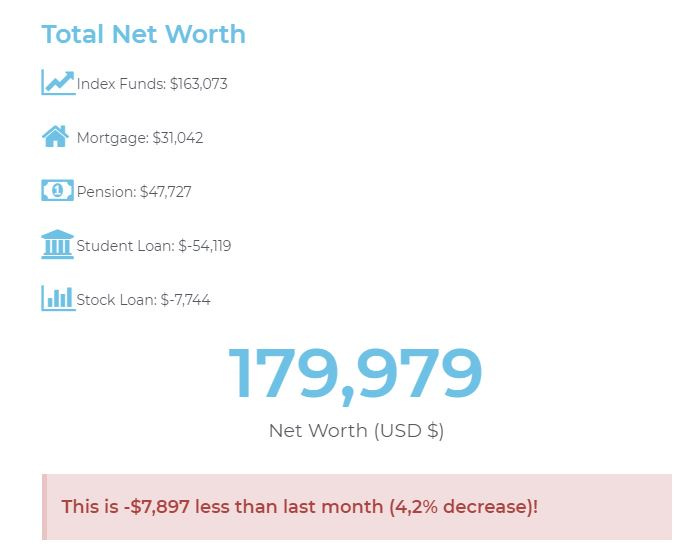 ---
Like this newsletter?
Sign up here.
It's totally free.
No BS or spam.
Only one e-mail every wednesday with the freshest articles from the personal finance world.
---
Articles I Read This Week That Got Me Thinking
When Does the Stock Market Goes Up? by A Wealth Of Common Sense (3 min read)
2017 saw most of its gains come outside market hours but last year most of the losses actually happened when the market was open.
The question is: Does any of this really matter?
For normal, long-term investors it doesn't really matter all that much.
The day-to-day, week-to-week or even month-to-month movements in the stock market shouldn't have that much of an impact on your results if you have a time horizon measured in years or decades.
Some people may worry for some reason about these numbers but I actually think it's kind of neat that stocks can basically go up overnight and we don't have to do a thing about it.
This is amazing — you're making money while you sleep!
Is the stock market the new 4 hour work week of life hacks?
---
Financial Advice For My New Daughter by Collaborative Fund (4 min read).
Learning how to live with less is one of the most powerful financial levers, because you have more control over it than things like your income or investment returns.
The person who makes $50,000 but only needs $40,000 to be happy is richer than the person who makes $150,000 but needs $151,000 to be happy.
And the investor who earns a 5% return with low expenses may be better off than the investor who earns 7% a year and needs every penny of it.
Everything has a price, and I'm not just talking about price tags.

The price of a busy career is time away from friends and family.

The price of long-term market returns is uncertainty and volatility.

The most important financial advice I can give is that money won't provide the thing that you and almost everyone want most.

No amount of money can compensate for a lack of character, honesty, and genuine empathy towards others.

---

Neil Gaiman: How famous writers beat procrastination by Deprocarastination (3 min read)

If you think not procrastinating is hard, imagine being a world famous author.

Imagine you have millions of followers on your social media accounts, all eagerly waiting for your next tweet or post. Imagine how you could engage with your fans all day, every day and how it'd be addictive and so much fun.

On top of that, imagine you have a family. A wonderful spouse and a young child.

Wouldn't it be distracting?

Despite being in that situation, Neil Gaiman writes often and well. Over the years, he's developed a simple method that helps him write without procrastination.

Let's get specific.

Neil Gaiman's writing process

For the first draft, he uses a fountain pen and a physical notebook. He goes to a place he likes and orders tea. Then, he writes.

Or, doesn't.

You see, Neil has a rule: he either writes, or he does nothing. Either/or, no in between.

So if he doesn't feel particularly motivated to write right from the start, he intentionally gets bored.

After some time of doing nothing, he starts making up stories to entertain himself and starts writing.

This process is repeated, day by day. Fountain pen, notebook, tea, do nothing or write.
---
Maybe you missed my flow diagram?
May 2019 Income & Expenses – Savings Rate: 64,2 % ! (3 min read).
Here is my income & expenses for may 2019!
The flow diagram visualizes both my income, expenses & savings in the same figure. What do you think of it?
The currency is as always USD $.
This month's savings rate was a whopping 64,2 %, which I think is really good.
I mean, my goal this year was a savings rate above 60 %.
But somehow I feel bad because I didn't reach a 70 % savings rate this month. Weird, right?
How was your month?
---
Quote that got me thinking
Retirement starts when you stop sacrificing today for some imaginary tomorrow. You retire by saving up enough money, becoming a monk, or by finding work that feels like play to you.
What do you think about the quote below?
Are you retired yet?
Well, I'm not.
But I'm working on it.
One day at a time.
Both saving up enough money, but also on finding work that feels like play to me.
What do you do every day to reach closer to your goals every day? Any success habits you would like yo share with me?
Feel free to comment below.
---
Have questions, comments or suggestions? I would love to help you.
If you liked this newsletter, I would appreciate that you subscribe or like by tapping the "heart".
Feel free to reach out directly @Route2FI on Twitter or email me at post@route2FI.com
If you like weekly wisdom on e-mail every wednesday, I would love if you signed up below.
---
---
Thanks for reading,
Route 2 FI